English to Japanese Translation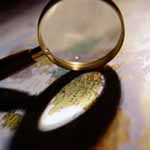 Are you interested in competing in the Asian market? We can provide English to Japanese translation of your web site, software, manuals, documents, or anything else you may need to start marketing your products in Japan. Japan is one of the top hi-tech markets in the world, and with a large population base to sell to, you'll be guaranteed to find new clients and customers, simply by speaking their language.

Our English to Japanese translation services are done without the use of any translation software. Only electronic tools to check for grammatical errors are used. We are fully capable to publish in Asian character sets, and all only translators who are fully fluent in Japanese will be involved in your translation process. We will guaranteed to convey exactly the ideas and tone of your original document, in well written, localized Japanese.
web site translation | english to spanish translation | english to french translation
english to german translation | english to japanese translation | dutch translation
english chinese translation | english to italian translation

© eWebTranslator Inc. All Rights Reserved. (site map)
12445 Hazeltine Street, Tustin CA 92782
Tel: 714.731.9477 Fax: 714.731.2031 Email: info@ewebtranslator.com