Web Site Translation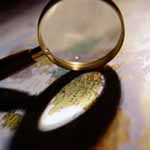 Web site translation is a simple and cost-effective way to increase your market base. As the internet continues to grow in popularity in a number of countries outside of North America, non-English speaking users will begin to search more and more for sites that cater to them, in their own language. We can help you to tap into this new and rapidly growing international market through our web site translation services.
At eWebTranslator.com, we have just over ten years of experience in this area. We'll take your existing site and very carefully and precisely translate every piece of text, every graphic, every form, and every other component of your site into the language or languages of your choice. All translation is done by a real human, not a machine or software, to make sure that your web site translation is as natural in the new language as possible.
web site translation | english to spanish translation | english to french translation
english to german translation | english to japanese translation | dutch translation
english chinese translation | english to italian translation | german english translation

© eWebTranslator Inc. All Rights Reserved. (site map)
12445 Hazeltine Street, Tustin CA 92782
Tel: 714.731.9477 Fax: 714.731.2031 Email: info@ewebtranslator.com