German English Translation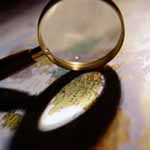 A German -English translation of your website is just one potential use of our services. We have a large staff qualified to deal with the technical aspects of your site, or any software you may need to have translated. We will take care of all of your coding and documentation, and ensure that it is writing not only in the desired language, but with all of the proper idioms and semantics as if it were originally written in that language.

Our translation services, such as German English translation, also benefit from our decade of experience in this industry. In addition to our technical staff, we employ a large network of translators. Members of this network live in just about every major country in the world, and allow us to perform translations between over 40 major languages. We're certain that ours is a service that you can utilize to expand your potential market worldwide.
web site translation | english to spanish translation | english to french translation
english to german translation | english to japanese translation | dutch translation
english chinese translation | english to italian translation | german english translation

© eWebTranslator Inc. All Rights Reserved. (site map)
12445 Hazeltine Street, Tustin CA 92782
Tel: 714.731.9477 Fax: 714.731.2031 Email: info@ewebtranslator.com